Practice Areas
Truck Wrecks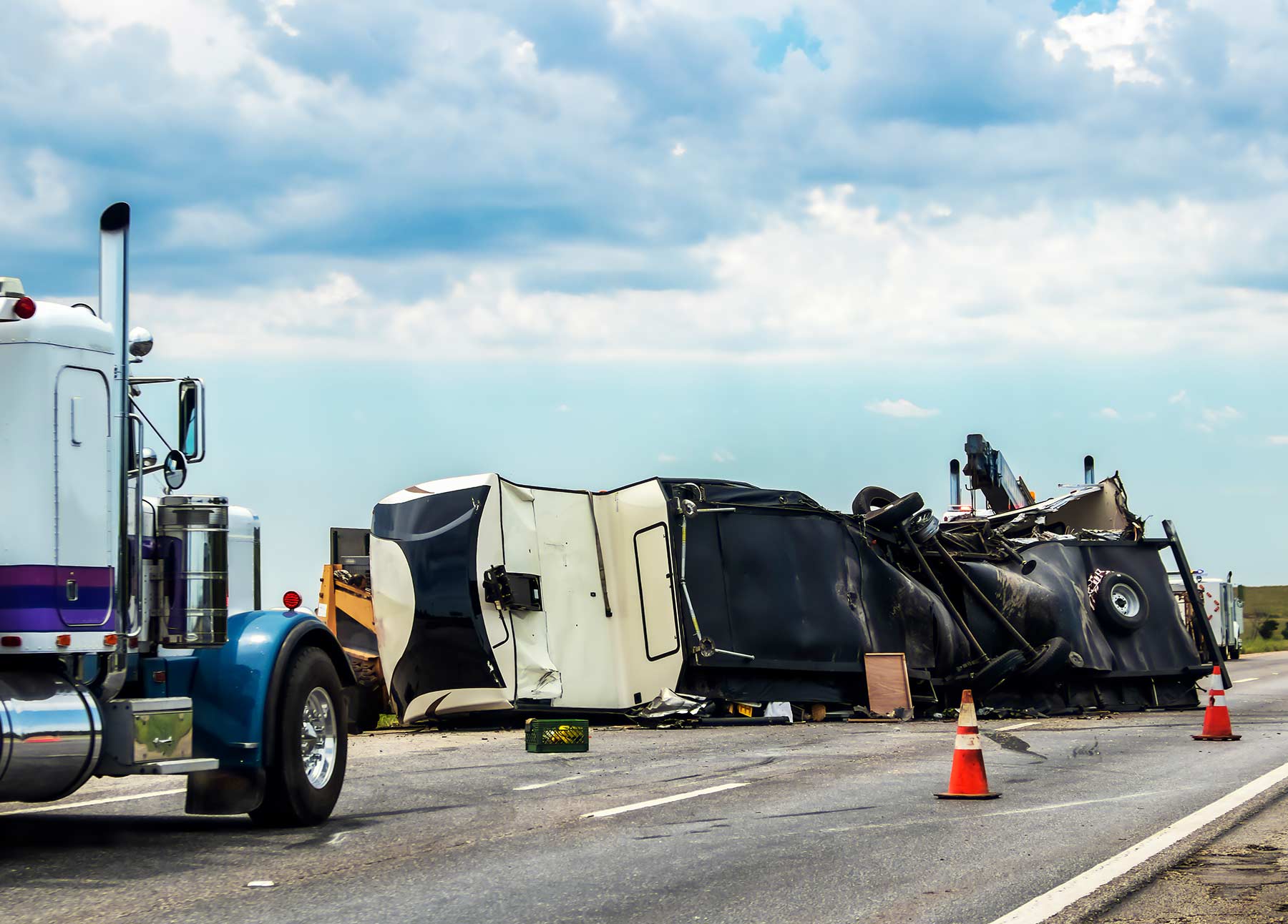 Large truck wrecks can cause devastating injuries.
We respond quickly and methodically to make sure your injuries are treated, and legal issues addressed. We handle all communication and negotiations with insurance companies, letting them know that we are ready for trial if they refuse a reasonable settlement.
Common causes of commercial vehicle accidents include:
Driver fatigue— Federal regulations limit the number of hours a driver can operate a commercial truck. We use the discovery process to demand company records that could reveal service hour violations.
Impaired driving— For truck drivers, blood alcohol content of 0.04 percent or higher is illegal. This is a tougher standard than the one applied to most passenger vehicle operators due to the difficulty of controlling larger machines and the dangers they pose. Truck drivers might be impaired by drugs, including substances they're using to keep them awake over a long haul.
Unlicensed or untrained drivers— Trucking companies may not properly vet the drivers they hire, resulting in unqualified operators of heavy equipment. This level of negligence puts the public at unreasonable risk.
Poor truck maintenance— The Federal Motor Carrier Safety Administration sets rules that require every trucking company to systematically inspect, maintain, and repair its fleet. Trucking companies may subcontract their maintenance to another entity which could be held liable for shoddy upkeep of equipment. But in many cases after failed inspections, the trucking companies simply order the equipment back into service without waiting for repairs to be made. A common result is brake failure which can cause a disastrous accident.
Mechanical defects— Some truck defects stem straight from the vehicle or part manufacturer. Common mechanical defects on semi-trucks include failed brakes, blown tires and faulty hitches.
If your case involves a commercial driver of some sort, whether a delivery vehicle or a tractor-trailer, you may have two or three defendants in your case, including the driver's employer, the company that owns the trailer, the company that loaded the vehicles, or even a parts manufacturer if the vehicle malfunctioned.